I Want a Log Home
You may be dreaming of building your own Log Home or have already decided to get started on that new piece of property you have just purchased or have been sitting on for years.

You know the feeling of living in a warm natural Log Home that you built yourself to your personal live style.
You imagine the feeling you will experience when you pull into your driveway at the end of the day and see a beautiful log home you have built yourself.

A log home is a real hand crafted beauty, A one of a kind which insures a great resell value. Some folks have built two, three or more homes already and each time are able to built a larger more impressive home each time.

You are going to need logs!. (click on images to see larger view)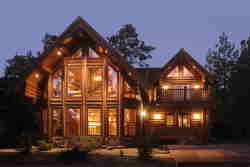 Q: Where do you buy quality logs to build a log home?

A:

We sell quality milled logs wholesale to the public

.

We are a company that sells high quality logs and log components at mill-direct prices to owner/builders, contractors and log home companies throughout the
United States and Canada. We are dedicated to providing the highest quality products and services.
WHERE DO I START
You may be thinking that just ordering a bunch of logs up is not for you as you have never built a home, yet a log home, before and have no idea where to begin.
Plus, you have looked for "Log Homes for Dummies" and can't find it.
Building any home is a big project and you know you will be needing professional help!
ITS NOT A PROBLEM WHEN YOU WORK WITH US
Ok, check this out....

(1.) We have floor plans, We can produce architectural drawings for any project.
(2.) We work with a national contractor who has built log homes for years all across America and Canada.
(First Hint: we can not stress enough the importance in dealing with a qualified log home contractor. Yes, we could tell you the stories of those who didn't use a qualified log home contractor.)
(3.) We can help you secure financing.
(4.) We will estimate logs and log components from your plans or ours.
(5.) We can guide you through the log home building process.

We are not a company that just sells quality logs at wholesale prices but we are a wholesale log company that helps people get their Dream Log Home built.